30 Jun, 2014
Rowan Fraser
Finally!  I've been waiting for this to happen for a while now and I must say its good to see it's been done: a global ranking of the resilience of cities.
There are indices quantifying and ranking cities for numerous other things: quality of life, attractiveness to tourists, air quality, sustainability and economic strength, to name but a few.   But until mid-April there was no ranking of urban resilience, despite mounting attention to the issue and increasingly vocal calls to tackle urban vulnerability.
The 'Resilient Cities' report, published by Grosvenor, a global real estate investment firm, took two years to prepare and is based on data from fifty of the world's cities.  It rates cities on a number of aspects related to vulnerability and adaptive capacity and then compiles these to form an aggregate ranking of urban resilience.
The Grosvenor 'Resilient Cities' ranking
'Urban resilience is such a profoundly significant issue,' says Dr. Richard Barkham, Group Research Director at Grosvenor, 'that we wanted to share our research with the general public – even if we initially developed if for own use.  We thought this could provoke policy makers into doing something about the issue.'
It seems to be working.  Academics from around the world have been calling to learn more about the team's methodology, the C40 group and the World Bank have expressed interest and Seattle City has been in contact with the idea of using the report's framework to undertake an audit of the city
Barkham is understandably happy with the work of his team and the level of interest in the report.  'We've reached a tipping point on this issue,' he says when I ask him why he thinks the report has struck such a chord globally.  There's been a huge amount of activity around urban resilience over the past five years, but without an accurate and practical way to measure urban resilience, public and private sector actors have been restricted.  With the report, that's not longer the case.
Canada and the US come out on top, rapidly growing developing countries come out on the bottom
Despite the novelty and usefulness of the ranking and its methodology, the results aren't altogether surprising.  Here's the top ten cities in the final aggregate ranking (PDF, p10):
And here's the lowest ten:
The blue triangle indicates the cities with the highest expected levels of population growth.  The pink part of the bar ranks the cities vulnerability and the grey part ranks adaptive capacity.  Each component can score a total of 50 and in the aggregate the total ranking is out of a hundred.
'We accessed over 200 datasets for this,' Barkham says.  The data covered a range of themes which collectively generate a score for either of the two main components – vulnerability or adaptive capacity.  Vulnerability, for example, is made up of scores for the city's exposure to natural hazards, environmental quality, access to and use of resources such as energy, food and water, quality of infrastructure and community engagement and health.   For adaptive capacity, the team used measures of each city's quality of governance and institutions, technical capacity and capacity to lean, planning ability and funding systems.  Each theme is equally weighted and the sum of all themes gives a total score.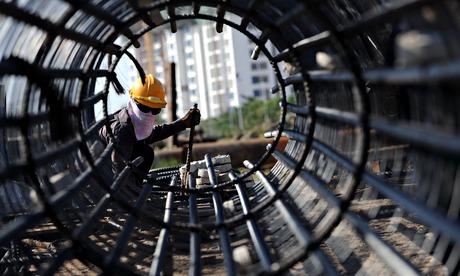 Real estate, urban management and resilience
'You can't do good real estate without considering the long-term,' Barkham says.  Grosvenor, for example, will use the ranking to guide its global investment decisions.
Barkham, however, is quick to point out that cities with lower levels of resilience can make excellent investment options and that the report is not advocating that risky cities be avoided.  Regardless of the investment class, higher risk is usually associated with higher yields and this is true of real estate also.  'The least resilient cities have the highest yields,' Barkham says.
However, for investors looking to ensure the long-term security of their investments, the more resilient cities will be more attractive. 'Most of us doing global investments use short-term metrics like rental growth, capital value growth, and so on.  These are useful over the short term but if you want to work with a city long-term you need an assessment of the long-term risks,' he says.
Such an assessment is useful for the investors but its also useful for the city government.  Quantifying urban resilience provides the city government with good information which they can use to lobby for change, and also with a method to monitor and understand the large-scale capital investments which the city itself is making in the urban area.  'Cities don't have vast amounts of resources, so they need a solid case for mobilizing funds,' Barkham says.
Private sector for public benefit
But beyond this, the report effectively issues a warning to city governments: if they fail to address resilience, they may find investment increasingly going elsewhere.  This ties into a broader discourse of urban competitiveness and attractiveness to highly mobile global capital.  The broader implication though is that if cities can address resilience they are likely to see increasing interest from real estate investors seeking long-term investment security (i.e. seeking to protect their capital).
For those who come to urban resilience with a public-interest attitude, such an argument may seem distasteful.  But it must be recognized that city governments have been quite good at acting to their economic advantage, but a lot 'less good' at taking action in order to protect the public interest.  Framing urban resilience as a way for cities to secure capital investment, rather than as a moral responsibility to protect the lives of citizens, may be more convincing to city managers and local politicians.
Banner photo by Liam Kennedy/US NAVY
Photo 1 by Nic Dunlop for Asia Development Dialogue
Photo 2 by Hoang Dinh Nam/AFP/Getty Images
Comments
comments
Categories: Governance, Infrastructure, Livelihoods, Resilience, Safety and Security